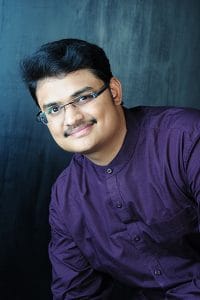 But God hath chosen the foolish things of the world to confound the wise: and God hath chosen the weak things of the world to confound the things which are mighty:" (1 Cor 1:27)
Pastor David Karunakar was born in a Christian family. His dad (Pastor Gali Gangaraju) is a Church pastor. Even though he was born in a Christian family he did not experience the joy of salvation until he was 11 years old. God saved him while he was studying for his 7th standard.
One fine evening during family prayer, the Holy Spirit spoke to him and he realized that he was a sinner and started to cry out to God for His forgiveness. Then he was filled with the joy of the Lord.
By the grace of God David Karunakar has memorized 1,000 Scriptures from the Holy Bible. His father, Pastor Gali, who memorized 5,000 Scriptures from the Holy Bible was his inspiration to memorize the Word of God.
As David was reading Bible, he was touched by the words of Christ in Matthew 28:19, 20
"Go ye therefore, and teach all nations, baptizing them in the name of the Father, and of the Son, and of the Holy Ghost: Teaching them to observe all things whatsoever I have commanded you: and, lo, I am with you always, even unto the end of the world. Amen."
He felt that God was telling him to do this for the fulfillment of the Great Commission. So when he completed his school, he went to Bible College for training. By the grace of God, David earned a Diploma of Christian Studies in Administration and Bachelor of Theology from Hindustan Bible College and a Master of Divinity from Madras Theological Seminary in Chennai India.
"But ye are a chosen generation, a royal priesthood, an holy nation, a peculiar people: that ye should shew forth the praises of him who hath called you out of darkness into his marvelous light:" (1 Peter 2:9)
By the Grace of God, he started David Karunakar Ministries - DKM that has Jesus Media Network www.jesusmedianetwork.com – a literature ministry that prints and supplies Gospel and Bible Literature for free of cost, Kids for Christ Jesus www.kidsforchristjesus.com – a kids ministry that ministers to Poor Kids and Kids in Prisons and Wonders of the Word www.wondersoftheword.org – a television ministry that promotes the Word of God.
David Karunakar has written three books, Meaningful Prayer – Praying According to the Word of God, Meaningful Worship – Worshiping According to the Word of God and Animals and Birds of the Bible, a picture book for kids.
David Karunakar married Lavanya Rekha in 2007 and God has blessed them with three children Israel, Jessica and Joseph.
Jesus Media Network
Post Box -13
Tirupati 517 507
Andhra Pradesh, India
Mobile: (+91) 949 008 9824