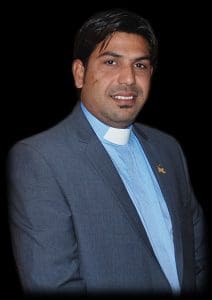 This is Mr. Jamil Salik writing about my experience of conversion testimony. Before encountering Jesus Christ I was living a hopeless and darkened life. There was no peace, love or rest in my life. I had everything but I was unfulfilled with the pleasures in my life. I was seeking true peace, happiness, joy and rest but couldn't find them in this world.
On October 16 of 2000 I was going to end my life, when suddenly a great miracle took place. That day I met to a man of God named Reverend Dr. Hiskeal Sarosh. He told me about true life and purpose, of life and the origin of life not only in this mortal world and eternity as well. He gave me a holy Bible to read. Where I read the passage from John chapter 1 verse 4 and 5 "there is written In him was life, and that life was the light of all mankind The light shines in the darkness, and the darkness has not overcome it"
After reading this passage the Light of GOD came upon me and he helped me to understand and to receive the true light JESUS CHRIST. I accepted JESUS CHRIST as my Savior and Lord. I confessed my sins and started to walk in the true light of GOD. I was a person of hopelessness and leading a life with no purpose, but after accepting JESUS CHRIST as my lord and savior and my master I received a purpose to live a hopeful and happy eternal life. The word of GOD made me stronger day by day.
With JESUS CHRIST I now have new direction in my life, new aims, new goals and the true light. Now I have unbreakable relationship with my heavenly father through the lord JESUS CHRIST, who gave us not only salvation but a great authority and designation as His sons and daughters. I say thank you to my lord JESUS CHRIST who died for me and his holy blood which cleanses us from all sins, his sacrifice gave us all a new heart and new soul.
Now I've became a person of eternal hope and true light. I can say to GOD "ABBA" father through lord JESUS CHRIST. Now I have a spirit filled and lightened life. Romans chapter 8, verse 34 "Who then is the one who condemns? No one. Christ Jesus who died—more than that, who was raised to life—is at the right hand of God and is also interceding for us". Amen.
Ev, Jamil Salik John
00-92-333-9926620
00-92-300-660-6310
www.agmint.webs.com
Pictures of Hindus accepting Jesus Christ
Pictures of Hindus accepting Jesus Christ 2
The Crusade in Mukuru Kayaba Slums
with Pastor Zaphania and Pastor Jamil from Pakistan
Muslims being Baptized
with Pastor Jamil from Pakistan