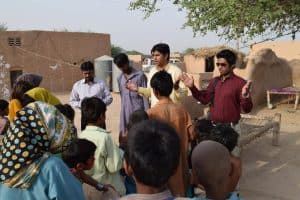 THERE ARE PHOTOGRAPHS THAT ACCOMPANY THIS POST. PLEASE SEE THE PICTURE PAGE FOR PAKISTAN (under Countries).
Greetings in Jesus name,
Dear Brother Shalom…
Here I am sending you Pictures of Hindus who accept to Jesus Christ as son of God, know they are ready for the Kingdom. They have need of prayers and New Testament Bibles.
In the Pictures you can see that we ordain a Hindu leader who accepted Christ, and now he is ready to work for the lord among his own tribes. This man has need Need of help with monthly Finance for local travel for Evangelism.
And he requests Bibles for new believers , it was too Difficult for us to do Evangelism among them, but we Got Victory on the devil by the grace of God…
Many healing and Miracles happened among Hindus, you can see people got healing,you can see one man who had Big Tumor on his shoulder, now the tumor is going small. He still has need of prayers for his Complete healing, and we have strong faith that this man will be Completely healed in Jesus Mighty name.
Here I also am sending you pictures Hindus people who accept to Jesus Christ and got healing during your prayers.. You can see in the pictures one Muslim family who gave their lives to Christ by the grace of God, and also you can see in the pictures, our Driver of Van who was Interested to learn about Jesus Christ.
We gave him material and now he accepted Jesus Christ. Praise the Lord.
Thank you very Much Brother for your Prophetic prayers and I am so thankful to all brother's and Sister's who are praying for us a lot, and also thankful to all donors who are helping us to reach people.
God Bless you all.
Jamil Salik John.