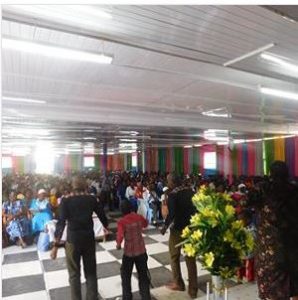 THERE ARE PHOTOGRAPHS THAT ACCOMPANY THIS POST. PLEASE SEE THE PICTURE PAGE FOR "KENYA – PASTOR ZAPHANIA" (under Countries).
From Gladys Masore [wife of Pastor Zaphania]
Greetings my fellow brothers in the lord Dov and John
God is doing great work here in Kenya, what I have seen with my own eyes I cant imagine, let me assure you and thank our lord king Jesus coming soon.
I have finished with the audio of broken hearted you can see me performing in the church of 2000 people many people cried to the lord and many people received Jesus and 7 people received healing it was a healing message.
You can see we distributed books of when Jesus set you free be free indeed and some Bibles pastor will send to you very soon he went to check materials town if they have finished.
Down you can see I paid the hall where we will be using for pastors conference and launching of Broken hearted Audio waiting for God's provision to produce the video Other two photos it is me and some youths from my church we were invited with the pastor of that church to share with them about broken hearted, many people cried and many cried to the lord.
So pray that God will provide so that we can get video If the lord provides you support the work of God so that we get video after that I will send to you the CD and you will see what the lord has done here.
Happy to hear from you.
It will be done on Sunday this week on date 13 at 2 pm up to 4 pm also it will be the last day of pastors conference.
yours
Gladys