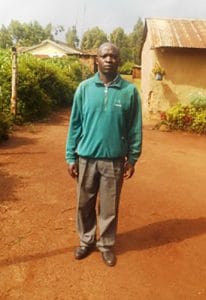 My name is Pastor Nathan Sifuna, I am based in Moi's Bridge Town. I received Jesus Christ in 1996. One evening I was invited to an interdenominational fellowship of which was held every evening. When I went to that place I was drunk. A woman named Betty was teaching the word of God, when I heard that word of God I felt a fearful spirit and I asked her to pray for me. From there I surrendered my life to Jesus Christ. Then they invited me to their church.
I stayed at that church, of the people that led me to Jesus Christ, and I was raised for 8 years. During that time I was given the chance to teach Sunday School. After 3 years I was appointed to be Assistant Pastor. Then 2 years later the Lord spoke to me, telling me that I should go and open a church at a place called Bwayi village. I then spoke to my spiritual father who prayed for me and allowed me to go and plant a church where God was leading me.
I am currently a Pastor at Good Hope Life Church here in Kenya, Uasin Gishu County, North Rift of Kenya. I am a full time minister of God.
I moved from Bwayi and right now I am in Kwenet area where I am pasturing a church where we have bought a plot of land and we have built a school there.
I am very much thankful to have such an opportunity to thank the almighty God and the King of glory and the creator who connected me with Pastor John McTernan and Pastor Dave Hauser. They have been sending me newsletters, the Last Trumpet, Jerusalem, 666 Surveillance, Jesus Christ came to heal broken hearted. I have been distributing these newsletters to different churches, teaching about the last days we are living in and the people are responding well, knowing Jesus Christ in different areas in the country of Kenya.
As you know in everything that happens there is God's plan and purpose for it. I am very thankful indeed for the good work they are doing in touching and reaching brethren in different areas. I too appreciate them for their ministry which I am sure is reaching the people of God in spirit, mind and body.
Pst Nathan Sifuna ,
P.O BOX 339 – 30202
Moi's Bridge, Kenya, E.A
TEL: +254725801638
Email: [email protected]
Kamukuywa Mission Report


The Last Trumpet in Kenya


Nzoia Mission Trip


 

More of the Last Trumpet in Kenya




Webuye Mission Updates



 

Pastor Nathan Sifuna - The Last Trumpet