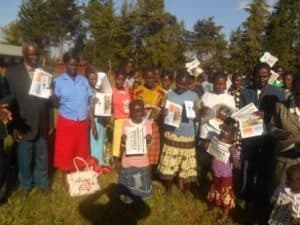 THERE ARE PHOTOGRAPHS THAT ACCOMPANY THIS POST. PLEASE SEE THE PICTURE PAGE FOR "UNITED STATES – Dave & Willie Hauser" (under Countries). Also see Pastor Nathan Sifuna's page.
Dear Pastor Dave & John
Greetings in the mighty Name of our Lord Jesus Christ. I hope you are doing well in his kingdom proclaiming the good news of our Lord Jesus Christ. Our trip was successful, we saw the mighty power in the conference in Cherangany. The host was Pastor Samson; he was the one who invited us in his church, he told us that his church needs revival because people have rebelled against God, they fear not God principles and they remain in strife.
We started the conference on Saturday whereby we found people gathered ready for us. Pastor Welcomed us as we arrived. They started the meeting with prayers and began to worship with songs and praise. Pastor Samson introduced us to his congregation then he invited me to minister the gospel.
As usual I love the book of Luke 4:18 that is Pst. John's choice which he used to write his tract, Jesus came to heal the broken hearted, it was like theme of the meeting. Many people were blessed concerning that book and the tract I was teaching. Jesus came to heal the broken heart.
In that church there were women who were in crisis with their family and church. Also in that church women leader had crossed with the pastors wife. After finishing the teachings, they told me to pray for them. I told them to hold their hands together and I prayed for them. I then encouraged them to hold their hands tight in real sense of reconciliation. I encouraged them to be in one so that they can lead other women by example in the church.
Many brethren also gave their lives to Jesus Christ. In the second session at evening, I told them that Jesus is coming very soon. I taught them about end time teachings as the antichrist is working through youths engaging in terrorists activities to kill people. I also told them that Jesus said, Nation will rise against Nation e.g Russia and Ukraine. I told them to pray for Russian, Ukraine and Israel of which Israel are in between enemies as Nations. I end by distributing Newsletters of the Last Trumpet and Jerusalem and also explaining how it speaks.
Many people were touched a lot and they wrestled to get the few newsletters that I was left with. God bless you servant of God for your support and also for the teachings that God gave you to write newsletters of which it has helped many. Many people have been revived and blessed and others have given their lives to Christ through your newsletters and also your support. Today I managed to go to Post office. There was the box which arrived safely, I was not able to collect it, they need $65 for tax revenue fee. I am happy because it has arrived at the time I have been invited to Kapenguria near Pst. John's church where I had gone sometime to preach and I distributed newsletters.
Pst. Stephen has invited me, he was in meeting at Pst John when I wasministering and distributing newsletters. He was touched by the teachings of the last trumpet and Jerusalem and also Jesus came to heal the broken heated. He is requesting me to go on Saturday. It is about 400 km away which is about $120 for transport. It is my humble request for your support and for your effort to enable me reach the place, give the word and distribute newsletters.
God bless you as we join our hands lifting the word of God really you have bless me and bless many Kenyans.
Your brother because of Jesus Christ,
Pst. Nathan Sifuna
The last trumpet in Kenya
Shalom!