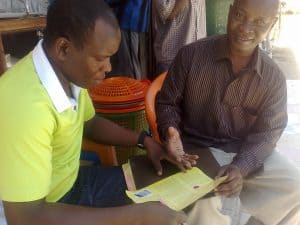 THERE ARE PHOTOGRAPHS THAT ACCOMPANY THIS POST. PLEASE SEE THE PICTURE PAGE FOR "TANZANIA – Pastor Amandus" (under Countries).
I greet you in the name of our Lord Jesus.
The ''Broken Heart'' Brochures have received a good response from people of all ages. They seem to address real life.
In the pictures Pastor Amandus Amandi witnessing to young girls and boys by passing in various streets and offices in Mwanza, Tanzania.
Meanwhile we need more Brochures in local language 5000 brochures will be a good number to start with. If they are printed here in Mwanza Tanzania is $500 could go a long way in meeting this 0rder.
Let me hope that we shall be communicating even more.
God bless you.
I'm Pastor Amandus.