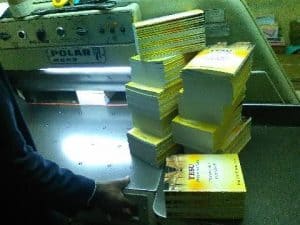 THERE ARE PHOTOGRAPHS THAT ACCOMPANY THIS POST. PLEASE SEE THE PICTURE PAGE FOR "KENYA – Pastor Zaphania Masore Makori" (under Countries).
Greetings John McTernan
I have been very busy packing material to western region for evangelism for seven Days.
This are the following materials that I will go with:
666 brochures 5,000 pieces
10,000 pieces of Jesus Christ came to heal brokenhearted
500 pieces books When Jesus sets you free be free indeed.
Also I have packed one box of Bibles, I will be meeting with pastors also from the border of Kenya and Uganda. Pray for me daddy, God to provide next week because it is difficult to carry all this material in the Bus. It will be difficult to distribute so I have talked with the owner of the Car to take me and help me to distribute the material. Also I will go with brother Patrick. If you will like to talk with him you will talk with him as from Monday up to Sunday I will be with him.
Yesterday the church helped him to move to the safe place because the Muslim are hunting him because they have been sending him to Mecca and now he has received Jesus.
yours son in the lord pastor Zephaniah
pray God to set free many people and heal many with broken hearts
I am still translating tracks to Swahili:
1 The Holy Bible Vs The Koran
2 How to hear from Abraham or Lot
3 So great Faith
4 Who is Israel's messiah