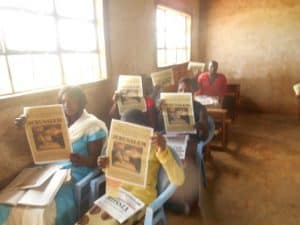 THERE ARE PHOTOGRAPHS THAT ACCOMPANY THIS POST. PLEASE SEE THE PICTURE PAGE FOR "UNITED STATES – Dave & Willie Hauser" (under Countries). Also see Pastor Nathan Sifuna's page.   
Dear Pastor Dave & John,
Receive much holy greetings in the Mighty Name of our Lord Jesus Christ.
Here we are doing well, I hope you are doing well too, prospering in the blessing of our Lord Jesus Christ. Our trip was very successful to Furfural to Pst. Josephat Khisa's New Life Church. The conference started on Friday at 10:00 O'clock. I was introduced by Pst. Josephat to his church members. He also invited me to introduce pastors that I had walked with. He invited me to minister the gospel. I decided to distribute Newsletters of Jesus Came to Heal the Broken Hearted . We read the book of Luke 4:18. As usual this book has been helpful to open the teachings of the last days. I told them that Jesus came to heal and also to rescue those who are in bondage of Satan.
Many people responded well. They were listening without moving around. I ended with praying for those who have needs. I prayed for one woman in particular, whose husband is a Muslim and he has always rebelled against her Christianity for he was once a Christian. Every time, the husband has been acting against her faith telling her to go to worship with him at the Mosque and not to go to Church. When I taught at the book of Luke 4:18, the woman had a lot of bitterness in her heart. I prayed for her and she was relieved of pain and bitterness. She then left to go to home after the conference where she invited her husband to come at the conference. The husband then told her, he will join any church the Lord is going to direct him to.
This is a testimony because he has never spoken with change of heart attitude like that before. The wife told me that she gave him also newsletter and he read it, he was encouraged so much by the Revelation in the Newsletter that Jesus Came to build the broken hearted. He told me on Saturday on the second day we were doing conference.
The second day, I gave the mantle to Pastor John Wamzee who preached the gospel. He finished in the evening and invited me again to pray for people. That is all what the Lord did at the last trip we went to. Thank you for your support and effort to make the word of God to reach in different places. Today I managed to go to Post Office. There was a box, I was happy to hear that. They need $65 for Kenya Revenue Authority Levy.
I also have a trip on Friday to Pst. John Wekesa at Webuye Church. He has been inviting me always! He requested me go and distribute newsletters there. The transport will be approximately $35.
God bless you. Extend my greetings to all the other team over there. I am happy working with you and in the Kingdom of God.
In his service ,
Pst. Nathan Sifuna
The Last Trumpet in Kenya,
Shalom!!