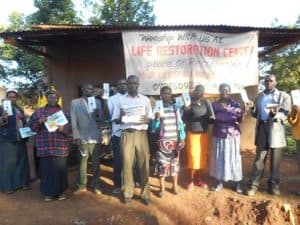 THERE ARE PHOTOGRAPHS THAT ACCOMPANY THIS POST. PLEASE SEE THE PICTURE PAGE FOR "UNITED STATES – Dave & Willie Hauser" (under Countries). Also see Pastor Nathan Sifuna's page.
Dear Pst Dave & John,
Greetings in abundance to you through the Majestic and Marvelous Name of our Risen Lord Jesus! May His resurrection Spirit be found flooding your life day by day as you seek to fulfill all His will in your life. Our trip was very successful. Pst. John from Webuye welcomed us in a generous way. We started our service on Friday at 11:00 o'clock. Pst John welcomed us and introduced us to his congregation. He then welcomed me to minister.
The theme was "Jesus is coming very soon". These are books that we read; I think you will enjoy it. Matthew 24:7 -Revelation 13:16-17 For nation shall rise against nation, and kingdom against kingdom: and there shall be famines, and pestilences, and earthquakes, in divers places. Matthew and specifically look at how Jesus is revealed as the "Soon and Coming King."
There are so many truths revealed in the Gospels about Jesus Christ. Think about it. How great is the salvation of our Lord. He died for the sins of all mankind. What amazing grace! This is just one of the great truths. Then, there's the revelation of signs, wonders, healing, deliverance, and miracles. The scripture tells us that all these things are available and accessible to us. But, I believe that the greatest event of all is yet to come. It is the Lord Jesus coming back for His church! Yes, that's right. I'm talking about the rapture. Our King is coming back again!
Jesus is our Coming King! He is not coming back for a perfect people. But, He is coming back for a pure and holy people. He's coming back for His church, which was birthed by the Holy Spirit and created in the image of Jesus. He's coming back for a church that looks like Him, talks like Him, acts like Him, and thinks like Him. He's coming back for a people that are pure and holy just like He is.
Many people responded to the word of God. Women, men and young people after hearing the word of God surrendered their lives to Jesus Christ. They were about 22. Glory to Jesus; thank you for your support and generosity. Through your support you have enable us to go in different areas preaching and proclaiming the word of God. God bless you so much.
Also I have receive a call from Pst. Samson from the church of United Christian Ministry in Cherangany. He has invited me to go and minister to his congregation on Sunday this week. It is my humble request if God can enable you to support us to go there and preach and teach the word of God. It is about $95. I have remain with half of the newsletters which I want to go preach and distribute these newsletters. God bless you.
Your brother because of Jesus Christ,
Pst. Nathan Sifuna.
Shalom