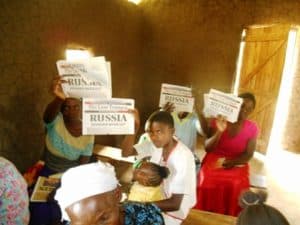 THERE ARE PHOTOGRAPHS THAT ACCOMPANY THIS POST. PLEASE SEE THE PICTURE PAGE FOR "UNITED STATES – LAST TRUMPET" (under Countries).
Dear Pastor Dave,
Greetings in the name of the Almighty Lord . We are fine here in Kenya. I thank the Lord for giving us opportunity to serve Him in this kingdom. It is not by our power nor strength but it is by his grace.
My trip was good and I saw the mighty hand of God in that meeting to which I was invited in Nairobi City, Kawangware Estate in New Jerusalem Church with Pastor Morgan. I taught them teaching about the last days. People responded positively and were very attentive to learn much about the last days. Because they have been hearing about anti-Christ, how they work and convince people. I taught them about 666, how it works.
I informed them that the writer of the newsletter wrote this revelation 30 yrs ago, and those things he has revealed are happening today, just as Russia now is fighting with Ukraine, the negative effect of the economy, hunger, and how Antichrist wants to merge churches to come together and destroy them; many Christians will suffer, how Antichrist will hold the economy of the nations so that people will worship the devil, and not worship God. One person asked, what do they do? I told him, "the first thing is to accept Jesus Christ as his Saviour, read and understand the word, Pray to God everyday and live a holy life. Don't live a life of fear, just believe God. Amen. Jesus is coming soon to reward you!"
When I finished on Sunday teaching the book of Revelation 19:7-8, Jesus Christ is coming to take the bride of Christ, then where shall you be? There were 7 people that surrendered their lives to Jesus Christ as their Saviour – Glory be to God. We finished by praying for the people in need, then I distributed newsletters.
Thank you for your support and effort. Your work has been documented in the book of Life and Jesus is coming very soon to reward you. I have been invited also to another church in Nairobi, to go and minister and distribute newsletters, and to Kericho. It is my humble request, I don't know if you have enough, can you send another box? Let me know.
Thank you so much. Stay blessed with your entire team.
Pst Nathan Sifuna,
The Last Trumpet in Kenya.
Shalom!