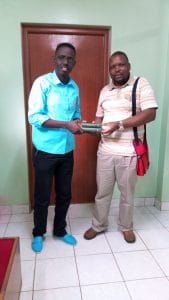 THERE ARE PHOTOGRAPHS THAT ACCOMPANY THIS POST. PLEASE SEE THE PICTURE PAGE FOR "KENYA – Pastor Zaphania Masore Makori" (under Countries).
Greetings Daddy John P Mc Ternan and sister Barbara
Today I had wonderful meeting with Kenya police and I share with them two Bibles that you had sent to me to bless the Kenya police.
The photos you see down, he is going to help me evangelize to all Kenya police. He is also a singer and an evangelist. Abba Father is doing great work here in Kenya.
Our God is faithful; we will be moving with him into so many different police posts to preach and share with them the love of God.
Keep praying for God's provision
yours pastor zaphania