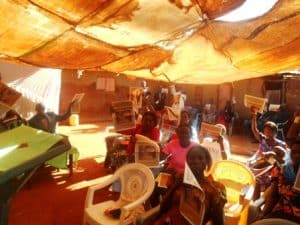 Dear Pastor Dave and John,
Mighty greetings to you in Jesus Mighty name.  We are doing good in the Lord and we thank God for giving us the opportunity to serve him. We appreciate your prayers and we pray that the Lord will always give you the strength to move on and on.
We traveled to Kericho  last weekend. We were invited by Pastor Kevin Kiprotich to preach and share the word of God. We were with him in Kisii when I was invited with Pastor Okobo's. He heard me when I was preaching and teaching the word of God about the end time  and was touched, which inspired him to invite me to his church to preach the same word of God and also to distribute the newsletters.
When he invited me on Saturday , the holy spirit led me to speak that Jesus came to heal the broken hearts. We read the book of Luke 4:18. I decided to give the newsletters so that people can follow how I am teaching. Many people were touched with the teachings that God gave Pst. John McTernan. People were really blessed. We had some young using drugs and they decided to give their lives to Jesus. They were around 8. People really appreciated and were very happy for them. The newsletters have been very When I had departed from the place, one woman gave me a call and she said that she was really blessed with that message.
These newsletters have been helpful in terms of spiritual growth. Christians are very much lightened and many are giving their lives to Christ after reading this newsletters. Many don't want to be left out in the journey to heaven in this last days.
Keep up the good work of the Lord and the Lord will truly continue blessing you in Jesus Mighty name. I distributed the newsletters though they remained in excess for people were not many. I decided to carry the rest . I have receive a call from my best friend Pastor who is serving in Kamukuywa. They want me to go there, minister and distribute newsletters on Saturday this week
It is my humble request for you to support me so that i manage to go there, teach and distribute newsletters.  God bless you for keeping in touch and for your networking  and for your support. May our Heavenly father bless you so much and expand your territories. 
Extend my greetings to your entire team. I love the work you are doing.
Your brother because of Jesus Christ,
Pst. Nathan Sifuna
The last Trumpet in Kenya.