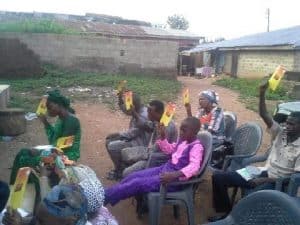 THERE ARE PHOTOGRAPHS THAT ACCOMPANY THIS POST. PLEASE SEE THE PICTURE PAGE FOR "NIGERIA – PASTOR OYEWALE ABEL" (under Countries).
Sir,
As at today we thank God. We are moving higher. God of Israel is working.
I was glad to hand over copies of the translated brochure to CHRIST THE GLOBAL MINISTRY today for distribution. Also Heavenly Gate Intercessory and Fire Brand Team collected 500 copies for distribution in their Ministry. I also went to a village today picture attached.
Keeping us in your prayer as we do here. The demand for English language of the brochure is very high.
Thanks
Pastor Abel